BROADACRES FITMENT CENTRE
Shop 6B Broadacres Lifestyle Shopping Mall Cnr Cedar and Valley Roads Fourways Johannesburg
(Tel) 011 467 8210/1 Fax) 086 614 2226 E-mail: bfitment@tiscali.co.za Website: www.broadacresfitment.co.za
Broadacres Fitment Centre - THE Fitment Centre in the North of Johannesburg
Stay away from the traffic and frenetic activity of the Fourways Mall area. Broadacres Shopping Centre has some wonderful restaurants, coffee shops, Virgin Active and arguably the best SPAR in the country. Come and relax in the gentle surrounds while we do your fitment.
We're the best kept secret in the Northern parts of Johannesburg and have been very much a �word of mouth� centre for all of your fitment needs. Those that have found us have become regular clients, visitors and, in many cases, friends.
How have we managed this? It's easy - excellent customer service and a willingness to go the extra mile for you. This might be as simple as staying open for those in need, to as complex and different a fitment as you require. We listen to you and do whatever we can to deliver to your needs. However, we are not shy to offer you advice that is supported by knowledge gained from years in the Outdoor and Fitment arenas. When you are about to take a trip, there is a good chance that we have been in a similar situation and have experienced what you have, or are about to. We can make more money out of selling you a roof top tent (RTT), but would rather offer you a decent ground tent if we believe that that is what will suit you better.
TYRES - 4X4 - BATTERIES - BRAKES - SHOCKS - EXHAUSTS - START TRAC - SERVICES
We are your one stop 4x4 Accessories and Tyre Fitment shop and are an independent fitment centre. This is important to you if you need the freedom of choice that you don't always get, and are supported in our endeavours by a wonderful network of suppliers and partners that we have built up over the years, people and companies that have a similar ethos to us � that of customer service. While we do have preferred suppliers, if those supplier's solutions do not suit you, we can, and will, offer you an alternative. However, we will not sell you a tyre that we haven't used or tested ourselves. We will not sell a cheap tyre merely to make a sale. To give you some peace of mind we are both an AA Approved Centre, as well as a TUFFSTUFF approved fitment centre who offer a 1 year warranty on all of our work.
This website has been designed to keep you informed of what we are up to � what our latest fitments have been that will be of interest to you, our new products and services and even some accounts of trips that we have been on in our personal capacities.
NEW STUFF
EFS Suspension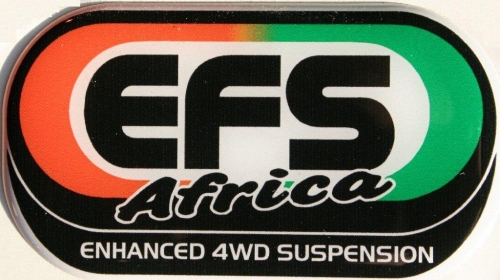 This is a very well priced alternative to Old Man Emu and Iron Man. It fits easily and performs very well. It is one of the only aftermarket suspension systems still manufactured in Australia, and the quality is superb.
We are holding a demo on this suspension on the 13th March 2011 - staring at our shop at 07:00 and moving on to Hennops Off road Trail where we will have a get together afterwards. Please join us, we'd love to see you there.
Under Bumper Winch Fitment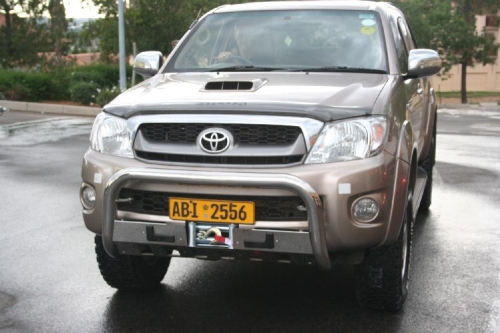 We do, arguably, the best and neatest winch fitments around. It is not always necessary to buy a replacement bumper or winch bar to have a winch fitted. In addition, if you are having hassles with your winch, bring your vehicle in and we'll sort it out. The Best Fitment Centre in Fourways
4x4 and Outdoor
Breaking News

We are now supplying EFS Suspension as a well priced and viable alternative to OME and IronMan. This suspension gives good lift and a comfortable ride. Performance to date has been great. It is one
of the few aftermarket 4x4 suspensions available in South Africa that is still manufactured in Australia

4x4 and Outdoor

We supply and fit all types of equipment and accessories to, primarily, Four Wheel Drive Vehicles. Our major suppliers in this endeavour are;

EFS Suspension
Front Runner
ARB
African Outback Products
National Luna
Engel
WARN
4x4 Megaworld
Easi Awn
ONCA
Safari
Spanset
Sunset Gear
KC Hilighters
Liteforce
OZTent
EFS Africa

This very impressive list of suppliers would almost be self explanatory in terms of what we are able to supplier. However, to ensure that it is clear, we do;

Bull and Winch bars
Rear bumpers and swing arms
Tow bars / hitches
Roof Racks and fittings
Snorkels
Winches
Hi Lift Jacks
Drawer systems
Recovery equipment
Auxilliary tanks
Suspension systems
RTT's
Awnings and Gazebos
Chairs / Tables
Sump Guards and Bash Plates
Spot lights
And a host of other 4x4 accessories

On top of this, we do specialised design and fitment based on client requirements. Just ask for it.

Tours and Safaris

Broadacres Fitment Centre and Mafunyane Adventures have met to give our clients superb opportunities for Tours and Safaris throughout Southern Africa. Mafunyane will provide reduced rates to all Broadacres Fitment Centre clients

Visit their site for a full rundown of trips available.
Shop 6B Broadacres Lifestyle Shopping Mall Cnr Cedar and Valley Roads Fourways Johannesburg (Tel) 011 467 8210/1 Fax) 086 614 2226 E-mail: bfitment@tiscali.co.za
NEW TYRES - 4X4 - BATTERIES - BRAKES - SHOCKS - EXHAUSTS - START TRAC - SERVICES
Broadacres Fitment Centre Fourways - Northern suburbs Johannesburg - Broadacres Fitment Centre
Broadacres Fitment Centre Fourways, Brakes Fourways, 4x4 Sales Fourways, Shocks & Exhausts Fourways